---
"Karakuri Club" Invitation
Privilege #1

Book

You can get the collection book of Karakuri Creation Group (KCG).

(You can get the newest pages of the collection book of KCG regularly)

Privilege #2

Annual Christmas Present

You can get one Christmas present.
If you like to get more than one present, you have to pay additional charge.
You can choose the craftsmen (the present from him). Each craftsman makes one present for one member.
Additionally you can change the craftsman, if it's before the end of June.

 

Privilege #3

Member's Price

You can buy KCG's works at member's price.

 

Privilege #4

Karakuri News

The latest information will be regularly sent to you.

 

Privilege #5

Special Website

URL viewing is exclusively for members only.

 
The fiscal year is from January to December.
| | |
| --- | --- |
| Members joining fee | JPY6,000 |
| Annual membership fee | JPY12,000 |
| For the first fiscal year, it amounts to | JPY18,000(JPY6,000 + JPY12,000). |
This price includes shipping fee.
This price doesn't include tax of your country.
If you like get more than one present, you have to pay additional charge.
Additional charge is JPY10,000 one present.
---
Please direct all inquiries & applications to:
---
You can get information on old trick boxes or innovative secret boxes
in the pages for members.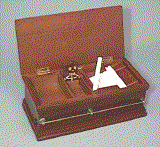 Kennedy tabacco box
(unknown authorship)
---
These are the craftsmen who will design and make Christmas resents
for 2014 Karakuri Club members.
The presents are undecided and secret until Christmas 2014.
Please choose one or more craftsmen who will make your Christmas present. (Karakuri Club)
Christmas Present in 2012 and 2013
Recently, the number of orders for Christmas presents has been increasing.
Therefore, we craftsmen sometimes cooperate with one another in making them.
Please understand this beforehand. If you need more information, please contact us.
 
PRODUCT
CRAFTSMAN

INFORMATION

2012 Xmas            2013 Xmas

Hiroshi Iwahara
He was moved by "CUBI" so he became a Karakuri craftsman. He has a mechanical style. He designed beautifully designed "Dream of Zebra" and "King-CUBI", which takes over 1500 steps to open! He creates pretty works recently. However, he says, "It's easy for me to make work which has many mechanical moving parts. Making them more outwardly beautiful is getting better."
   

2012 Xmas            2013 Xmas

Yoh Kakuda
His characteristic style is sure to influence other craftsmen and the Karakuri world. His aim is to create works that make people chuckle. He has many motifs of animals. A unique view of the world is brought on recently by the work. The work is not difficult. He puts an important point in the expression of the work.
 

Created Dec. 2013

Osamu Kasyo
He studies precision made with a puzzle box every day. The senior craftsman teaches him work. As for him, "an individual work" aims at making it. He makes trial and error day and night to announce his work early.
 

2012 Xmas            2013 Xmas

Akio Kamei
He has been making "Karakuri Boxes" for over 20 years. He is the central person of our group. Karakuri Club developed from his fan club. He designed Dice, Egg and many others.
 

2012 Xmas            2013 Xmas

Hideaki Kawashima

"Thaw" regards spring as a subject. It makes much of the design characteristics. The reason is because he is from the University of Arts department. The work which he aims at, makes use of the expression that the tree lasts, and visitors can touch and enjoy it.

 

2012 Xmas            2013 Xmas

Shiro Tajima
His works are unique, such as, "the Hermit Crab Box", or "Monkey's Palanquin." He often shows us great inspiration. He also has Yosegi skills. Please check his design. He wants to make works that have interesting movement. And he hopes when the works are touched, the feeling is good.

2012 Xmas            2013 Xmas

Fumio Tsuburai
He has various kinds of skills. Our group made 10 Karakuri Doors for a big exhibition in 2003. He was very active in making those products. Various devices are made on his work. We are always surprised by the device.

2012 Xmas            2013 Xmas

Kyoko Hoshino
In her childhood, she was brought up in a town where many kinds of craftsmen were working. After learning kimono-making, she made Western clothes and bags. She makes works that are different from other members. It is because she employs cloth.

2012 Xmas            2013 Xmas

Tatsuo Miyamoto
He has a long history of making trick boxes, and he shows gentle sensitivity. His style is romantic. His work is popular with women. "The chance meeting" is one of his most popular works.
This time the 2013 Ninomiya's Christmas present was canceled by circumstances.
We trouble all of you looked forward to.
Please forgive it.
We appreciate your help in advance.
| | | |
| --- | --- | --- |
| 2010 Xmas            2012 Xmas | Yoshiyuki Ninomiya | He has 60 years worth of experience. The devices of his works are very smooth. His beautiful works have fascinated many fans. He can make traditional work. And he makes the secret box. His work is very beautiful. |