@Karakuri Creation Group
You can also see the data of each work at each craftsman's page.
šInformationš
This price includes shipping fee. This price doesn't include tax of your country.
After we have accepted your order, kindly make payment within a week.
Our invoices reflect the correct value of our products regardless of other countries tax system.
Should you request an additional statement of value, we will be unable to sell you the product.
Thank you for understanding.
ŸSometime there are wood knots on our products, because they are made from natulal woods.Ÿ


Ÿ New items & Remade products Ÿ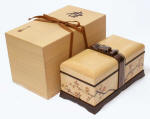 Member's Only
'hTEM
PRODUCT
Member's Price

Regular Price
P-36-2


Apricot ‡U

JPY 1,300,000
+ Shipping fee

Production by order




Sold out

'hTEM

PRODUCT

Member's Price

Regular Price

KY-45

Aquatic Bird Haniwa

JPY 35000


JPY 40320

KW-2-2

Thaw (Dyed black)@

JPY 25000

JPY 28800
@

ŸŸ Each Craftsmen's Works ŸŸ Click the photo.

@







Sold out




Sold out

'hTEM

PRODUCT

Member's Price

Regular Price

RF-17-2

ONIGIRI (Rice Ball)

JPY 30000

JPY 34560

RF-4-11

Super-CUBI
(the trinary system box)

JPY 62500

JPY 72000
@@
@

ITEM

PRODUCT

Member's Price

Regular Price

KY-34

Ronaporthe

JPY 31250

JPY 36000
@



Sold out




Sold out

ITEM

PRODUCT

Member's Price

Regular Price

OS-15



Sleep Lion

JPY 27500

JPY 31680

OS-13

bus stop

JPY 22500

JPY 25920

OS-10

The wolf from Grimm

JPY 26250

JPY 30240
@
@



Sold out




Sold out




Sold out




In production





Sold out




In production

ITEM

PRODUCT

Member's Price

Regular Price

M-26-5

Cassiopeia (SMALL)

JPY 15000

JPY 17280

P-12

Coffee Cup

JPY 45000

JPY 51840

P-10-6

Egg (cherry tree)

JPY 10000

JPY 11520

P-9-4

Dice (new)

JPY 12500

JPY 14400
@
@



Sold out

@

ITEM

PRODUCT

Member's Price

Regular Price

@

KW-37

Bars box ‡U

JPY 15000

Member's Only
@
@





Sold out

@

ITEM

PRODUCT

Member's Price

Regular Price

@

Z-2

Frog and lotus

JPY 28750


Member's only
@

ITEM

PRODUCT

Member's Price

Regular Price

YG-2

TAIYAKI @(Card Case)

JPY 31250

JPY 36000@
@

Sold out




Sold out

ITEM

PRODUCT

Member's Price

Regular Price

SS-3

Ashio box‡U

JPY 15000

JPY 17280

SS-2

The tower

JPY 22500

JPY 25920
@@
@




Sold out




Sold out

@ITEM

PRODUCT

Member's Price

Regular Price

TU-38

COIN BANK (17)

JPY 12500

JPY 14400

TU

-36

Kintaro@oh! NO.

JPY 13500

JPY 15552

TU-35

COIN BANK(16)

JPY 12500

JPY 14400

TU-40

COIN BANK (18)

JPY 12500

Member's Only
@
@

ITEM

PRODUCT

Member's Price

Regular Price

HS-19

The Picture-story show

JPY 23750

JPY 27360
@

Sold out

Sold out
ITEM
PRODUCT
Member's Price

Regular Price
MY-7-5

A Chance Meeting

JPY 23750

JPY 27360
MY-4-4

Kuru Kuru Heart

JPY 20000

JPY 23040
@
@Karakuri Creation Group
@

Sold out
In production

Sold out
In production

Sold out
In production

ITEM

PRODUCT

Member's Price

Regular Price

KK-1-2

Karakuri Small Box #1

JPY 4125

JPY 4752

KK-2-4

Karakuri Small Box #2

JPY 4125

JPY 4752

KK-3-4

Karakuri Small Box #3

JPY 4125

JPY 4752

KK-4-3

Karakuri Small Box #4

JPY 4125

JPY 4752
@

Sold out
In production



Sold out
In production

ITEM

PRODUCT

Member's Price

Regular Price

KK-5-2

Karakuri Small Box #5

JPY 4125

JPY 4752@

KK-6

Karakuri Small Box #6

JPY 4125

JPY 4752

KK-7-2

Karakuri Small Box #7

JPY 4125

JPY 4752

KK-8-2

Karakuri Small Box #8

JPY 4125

JPY 4752
@

Sold out
In production

Sold out
In production

ITEM

PRODUCT

Member's Price

Regular Price

KC-1

Karakuri Cube Box 1

JPY 4375

JPY 5040

KC-2

Karakuri Cube Box 2

JPY 4375

JPY 5040

KC-3

Karakuri Cube Box 3

JPY 4375

JPY 5040

KC-4

Karakuri Cube Box 4

JPY 4375

JPY 5040
@

@

Sold out
In production

Sold out
In production




Sold out

Sold out

ITEM

PRODUCT

Member's Price

Regular Price

CH-2-2

Fake Box

JPY 2875

JPY 3312

CH-5-2

Star night

JPY 9400

JPY 10800

CH-7

Double Box

JPY 12500

JPY 14400

CH-8

Present Box

JPY 9400

JPY 10800
@

ITEM

PRODUCT

Member's Price

Regular Price

CH-10-1

Osaru no Kagoya
(Hakone check point)

JPY 9375

JPY 10800

CH-10-2

Osaru no Kagoya
(Gora)

JPY 9375

JPY 10800
@

@

Sold out

Sold out





Sold out

ITEM

PRODUCT

Member's Price

Regular Price

NS-1-2

New Secret Box ‡T

JPY 5625

JPY 6480

NS-2-3

New Secret Box ‡U

JPY 6250

JPY 7200

@

NS-3-3

New Secret Box ‡V

JPY 6875

JPY 7920

NS-4-2

New Secret Box ‡W

JPY 8750

JPY 10080
@



Sold out

ITEM

PRODUCT

Member's Price

Regular Price

KB-8

Art Works
Karakuri Creation Group

JPY 5625

JPY 6480

KB-7

A Collection of Works
by Yoshiyuki Ninomiya

JPY 3500

JPY 4032

KB-5

Evolving Karakuri Box

JPY 3800

JPY 4500

@

KB-3

KARAKURI Works in Hakone & Odawara

JPY 3400

JPY 4000@

KB-1

A Collection of Works
by Secret Box Master Craftsman Yoshio Okiyama

JPY 2500

JPY 2880@
@
@






Sold out

ITEM

PRODUCT

Member's Price

Regular Price

CO-9-2

Four-leaf clover

JPY 35000

JPY 40320

CO-9-3

Organize crayons

JPY 31250

JPY 36000

CO-9-4

Compasses

JPY 31250

JPY 36000

CO-8-2

Sad-Tempura

JPY 22500

JPY 25920
@@
@

@

Sold out

Sold out

Sold out

ITEM

PRODUCT

Member's Price

Regular Price

WS-5

Fake Box

JPY 2200

JPY 2500

@WS-8

Money Bank

JPY 2200

JPY 2500

@WS-9

Newton Box

JPY 2200

JPY 2500

WS-10

Spin Box

JPY 2200

JPY 2500

WS-11

Coin Magic

JPY 2200

JPY 2500
@

Sold out

ITEM

PRODUCT

Member's Price

Regular Price

WS-15

Ninja Box

JPY 2200

JPY 2500

WS-18

Urashima's box

JPY 2200

JPY 2500

WS-22

Treasure box

JPY 2200

JPY 2500

WS-23

Magic box

JPY 2200

JPY 2500

WS-25

Omikuji

JPY 2200

JPY 2500
@




Sold out

New!!



ITEM

PRODUCT

Member's Price

Regular Price

WS-26

One step box

JPY 2200

JPY 2500

WS-27

Pop up bank

JPY 2200

JPY 2500
@
@

@

Sold out

@

ITEM

PRODUCT

Member's Price

Regular Price

SP-1

Mt. Hakone 1

JPY 1500

JPY 1800

SP-2

Mt. Hakone 2

JPY 1500

JPY 1800

SP-5

CROWN

JPY 1500

JPY 1800